Our last full day of Peacebuilders Camp had us doing some traveling, outside of Sumter County, outside of our comfort zones.
Our morning discussion introduced campers to the right that all humans have "to seek and to enjoy in other countries asylum from persecution" (Universal Declaration of Human Rights, Article 15). Although the word "asylum" has complex legal definitions, at its core, it means safety. Those who are persecuted in their own countries have the right to seek and enjoy safety in other countries. It's as simple as that.
However, we're all aware that in today's world, seeking asylum is anything but simple. In Europe, asylum seekers from the Middle East and Africa brave the Mediterranean in rickety boats, knowing that the risks that lie before them are less terrifying than those they've left behind. Good people like those working with Doctors Without Borders are responding to this crisis, taking on significant risk of their own to bring these refugees to safety. But complicating matters are "identitarians" whose mission it is to get in the way of both the boats carrying refugees and the ships determined to rescue them. In the U.S. southwest, men, women, and children fleeing the violence of Mexico and Central America face a different kind of risk, just as deadly. Good people there respond, too, leaving jugs of water in the desert to sustain the migrants. And, just as in the Mediterranean half a world away, their efforts are complicated by those who seek to undo them by slashing the jugs and letting the life-giving water leak away into the hot sand.
Our campers are far from both the Mediterranean and the Arizona desert. And yet they are within an hour's drive of several hundred asylum seekers, those who have been detained by U.S. Immigration and Customs Enforcement and are incarcerated at Stewart Detention Center in the small town of Lumpkin, GA. Many of our campers volunteered to go there to have a conversation with men who have requested visitors. They found that while supporting these asylum seekers does not carry physical risk as it does elsewhere, complications certainly exist even here.
After our discussion on Friday morning, we set out for Lumpkin. Covering the 35 miles on Highway 280 was the easy part. But our campers that morning learned that the 50 or so yards or from the parking lot to the razor-wired gate and then to the front door of detention center seemed a much longer journey. After lots of paperwork and a wait of about half an hour, the eight campers and four staff were escorted to the visitation area where they got to chat with men from El Salvador, Guinea, and Cameroon. The conversations took place through plexiglass windows and over staticky telephones, and yet the men we visited could feel the warmth of our friendship and hear the kindness in our voices. The gulf that existed between our cultures soon narrowed as we found things in common to talk about. Camper Alice and counselor Elysee were able to conduct their visit in French, a special gift to the man who they visited, who speaks no English and receives few visitors.  He shared with them the story of his migration, which took him from Africa to Brazil and up by land through northern South America, Central America, and Mexico to the U.S. border. Another man said he didn't want to talk about his own story, he wanted to hear about life outside the prison walls. And another chatted about sports and other ordinary things, reminding our campers about the humanity that we all share. They all told us that our visits made a world of difference to them, that they knew that they had not been forgotten. For this hour, they were afforded the dignity that each human being deserves. And in this hour, eight young people journeyed well outside the borders of their comfort zone and found another world opened up to them.
Meanwhile, the rest of our group was performing another kind of service. A mile from the detention center, at El Refugio, ten campers were helping to make this modest little house an even more welcoming place. Every weekend, El Refugio opens its doors to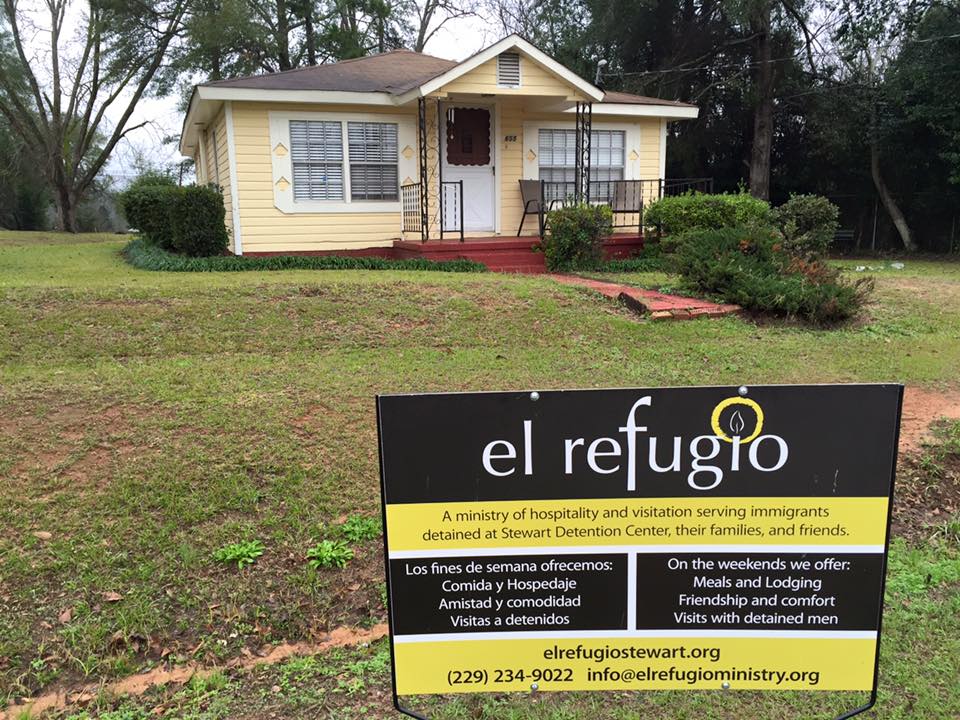 people who come to Lumpkin to visit their loved ones who are incarcerated at the detention center. Under the guidance of Juan Ramirez of Studio d+c in Atlanta and his son, our campers eagerly built two picnic tables and a play structure for El Refugio's guests. Working together to measure, level, drill, and paint, they learned that even carpentry skills can be put to use for peacemaking. Because of their work, El Refugio's guests now have more opportunity to relax and recover after long hours in the car or a heart-wrenching visit at the detention center.
After lunch at El Refugio, six of the builders left their work and went to the detention center for visits of their own. A complication arose when an ambiguous policy prevented the staff with the campers from visiting, so we all drove back to El Refugio and other adults returned with the campers. However, after a wait of another hour and a half, they still had not be permitted to visit, and had to leave without getting to meet the men they had come to see. It was a disappointment that the bureaucracy of the detention center kept these eager visitors from bringing a message of friendship and hope to men seeking asylum in our country.
An unexpected encounter at El Refugio that afternoon added one more learning experience to our day there. Dedicated El Refugio volunteer Susan Krysak stopped by the house with a young man who had recently been released from Stewart Detention Center. He willingly shared his story of coming to the U.S. as a child, the hurdles he faced as an undocumented youth, and the conditions he faced at Stewart. José is one of the fortunate ones who has been able to be released on bond, and while he is thankful for the help he has been given, he also regrets that so many others remain incarcerated there.
Returning to Koinonia after this full day of service and learning, Peacebuilders Campers had a much better appreciation of the right to asylum, and of their own power to make a difference, whether with a drill and a paintbrush, or with a listening ear and a kind word.