Thursday, July 8: Right of the day — Food
We began Day 4 with a little drama: campers acted out the story of Stone Soup and in the process assembled a delicious soup for dinner! The story's themes of community building through sharing food provided a great introduction to our two guest speakers, Jeremy Lewis and Caroline Singleton from Urban Recipe.
With Jeremy and Caroline's help, campers considered the importance of community building when meeting basic needs like food. Urban Recipe provides support to food insecure neighbors by facilitating a network of food co-ops, which are led and governed by the co-op members themselves. When members gather to divide up the nutritious, fresh food that Urban Recipe provides, they also check in with each other's needs, celebrate special occasions, and offer support to one another in times of crisis.
One source of the food that benefits Urban Recipe's members is the very farm where we've been holding camp all week. Part of Paideia School, the urban farm on Berea Mennonite Church's property provides a rich hands-on learning opportunity for K – 12 students and at the same time grows an abundance of produce that makes its way to hungry people through several different routes including sliding-scale CSA programs and food distribution ministries. Farmers Tania and Erin explained that the farm is partnered with a local elementary school and a nearby women's transitional center, both of which also have farms where food is produced and shared with the community. This network weaves together church members, students, teachers, incarcerated women, and service organizations and has become a safety net that makes sure that the right to food is honored in Atlanta.
After learning about the purpose of the farm, campers got busy harvesting tomatoes! We saw how many different colors and varieties of tomatoes are grown here, and learned how to judge which ones were ready to pick. When the harvest was in, we took a walk through the herb garden and smelled, felt, and tasted a variety of herbs. There is much to learn about all these beautiful plants and their uses!
Just as we were finishing up our time in the fields, the rain started pouring down. Taking cover inside, campers enjoyed the rest of the evening playing Uno and chatting with each other. The rain didn't dampen their enthusiasm for building friendships and creating memories together!
Friday, July 9: Right of the day — Social order
Toward the end of the Universal Declaration of Human Rights is Article 28, which states that that "everyone is entitled to a social and international order in which the rights and freedoms set forth in this Declaration can be fully realized." We've talked about many human rights this week, and campers have identified what they can do as individuals to promote access to these rights. But many rights depend on just and equitable systems, not individual actions. So today we thought about ways that the systems which govern our societies need to change.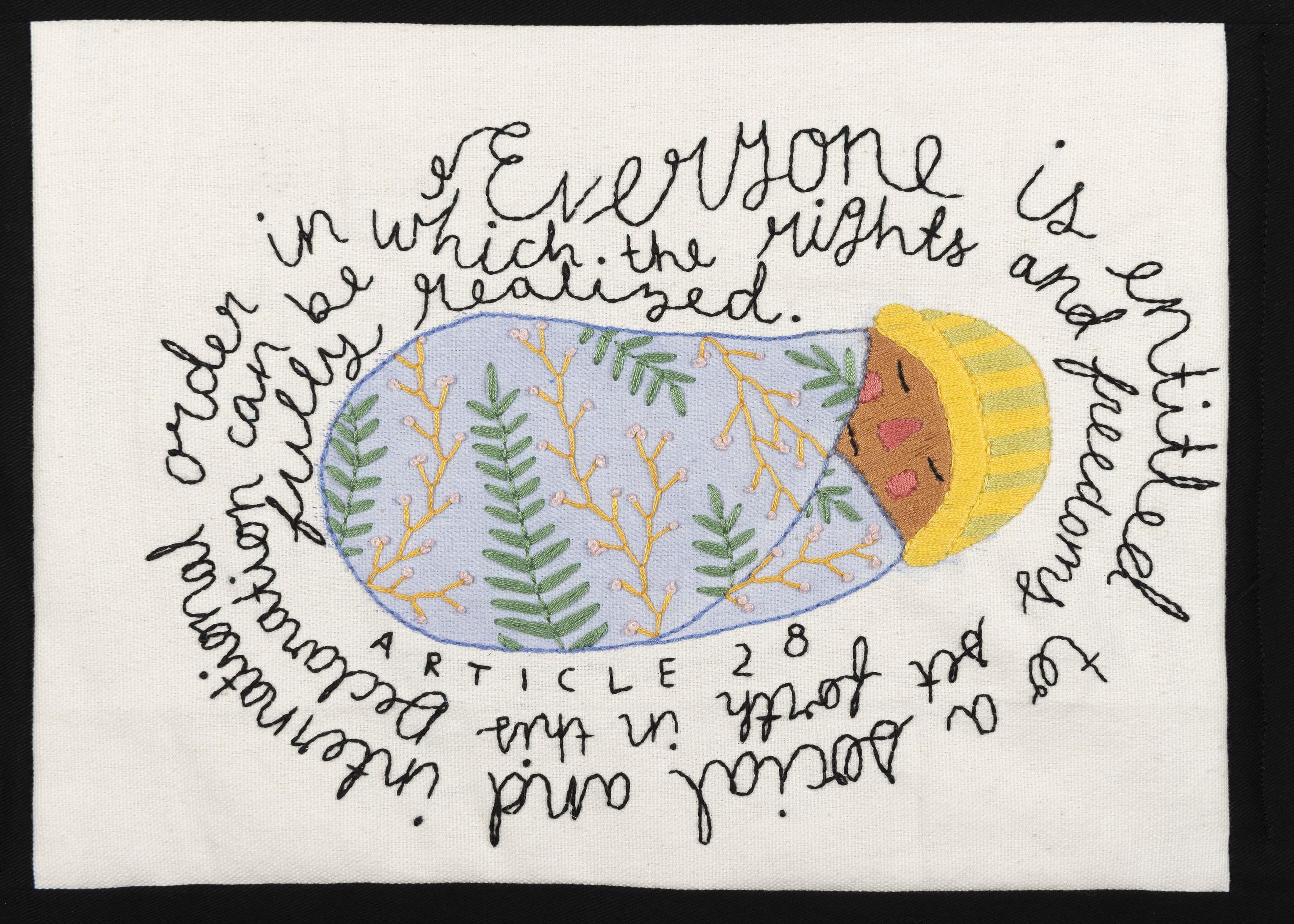 We started the evening by returning to the "ideal communities" that the campers had built on Monday. Each community was given a problem to solve, based on the characteristics of that community. What steps could a community take if its children are suffering the effects of radiation? Or if climate refugees are given welcome but then start to impinge on the food supply? Or if skyscrapers age and become prone to collapse? How are the conflicts that arise in these situations solved in a nonviolent and just way? Campers were challenged to think through what systems need to be in place to promote justice in their communities.
The next activity stimulated productive discussion about current events and social order. Campers were asked to physically place themselves on a spectrum somewhere between the extremes of "agree" and "disagree," depending on their perspectives. Where would you place yourself, given these statements?
Because everyone has equal opportunity in the U.S., everyone is responsible for their own success and failures.
There are adequate local actions taking place to ensure that the dignity and rights of people of color are being respected.
The Minneapolis school board has decided to remove police officers from schools. This decision will increase violence and misbehavior in schools.
When police officers are accused of using excessive force, judges should take into account the life-threatening and stressful elements of the job.
After placing themselves at the "agree," end of the spectrum, at "disagree," or somewhere in between, campers were asked to explain their position. As campers listened to their peers' perspectives, some adjusted their own positions. Considering these questions led to self-reflective discussion and the exchange of ideas.
"I don't know what other folks are facing because I live in a bubble."
"Having cops at school is very intimidating and there are other ways to protect students' safety."
"Police have a moral line and they know when they are crossing it."
"Some things are out of a person's control, and without opportunities and resources, you can't be fully to blame for failures."
After that hard mental work, it was time for some fun! Connor dazzled us with a fantastic rendition of the song, "There's No Love in February." With great effort, we managed to start a fine campfire in spite of all the recent rain and wet wood. We roasted hot dogs and played games around the fire as the sun set. A final reflection time left us all feeling very grateful for our evenings together, the friendships made, the insights shared, and the growth that happened as we explored our own potential to be peace builders and change makers.